Vegan parents jailed in baby's death
Still it goes on. Parents so grievously misled, either by religious convictions or misguided, know-nothing "experts", that they allow their children to die or be seriously harmed.

This sad story is from Florida. If you are a vegan and have children, please, for their sake, think seriously about their health before imposing your values on them.


Sat, Jun. 07, 2003
http://www.miami.com/mld/miamiherald/news/local/6033947.htm


Infant starved on 'raw foods' diet, authorities say
BY SUSANNAH NESMITH
snesmith@herald.com
AND DAVID KIDWELL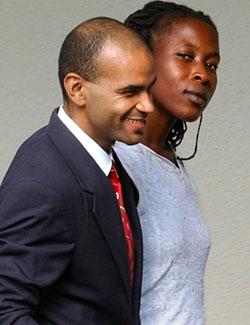 BEING HELD: Joseph and Lamoy Andressohn arrive at the Juvenile Justice Building in Miami just before they were arrested Friday. TIM CHAPMAN/HERALD STAFF

The parents of a baby who police say starved to death on a diet of wheat grass, coconut water and almond milk were arrested on aggravated manslaughter charges Friday as they left a court hearing over the custody of their other four children.

Joseph Andressohn, 34, and Lamoy Andressohn, 27, of Homestead, also were charged with neglecting the four surviving children, ages 1 ˝ to 6. Like their 5-month-old sister, Woyah, they lived on their parents' ''raw foods'' diet of uncooked organic fruits, vegetables and nuts. The state is trying to take permanent custody of the children.

Police said the children all were small and underweight and the two oldest showed signs of rickets.

''This particular crime, having an underfed small infant as its victim, is particularly heart-wrenching and painful,'' State Attorney Katherine Fernández Rundle said in a statement.

The Andressohns said nothing as they were led from the courtroom Friday morning. They remained in jail Friday night. Prosecutors said they would ask today for $100,000 bond for each of them.

A Miami-Dade medical examiner's office autopsy concluded Woyah died of ''severe malnutrition,'' according to an arrest report.

But Dexter George, a family friend and lawyer who is representing them for free, said the Andressohns will request an independent autopsy.

''The parents raised four kids, all on the same diet,'' he said. "They are convinced, as many of their friends are, that the death of this child was not due to malnutrition. They believe there must have been some other factor.''

'LIVING FOODS' DIET

The Andressohns follow a raw or ''living'' foods diet, an extreme form of vegetarianism whose adherents believe cooking food destroys vital enzymes.

Experts say parents should be careful when raising children on such a diet because the children need fat and protein. And infants should be breast-fed or given infant formula for the first year.

Woyah Andressohn weighed only 6.99 pounds and was 22 inches long when she died May 15, the arrest warrant said. The median weight for a girl her age is 15 pounds; the median length is 25 inches, according to the National Center for Health Statistics.

Prosecutors do not claim the Andressohns actively abused their children but rather that their unorthodox diet and shunning of doctors amounted to criminal neglect.

Neighbors and friends say the Andressohns were devoted, if unusual, parents. They home-schooled the children and were often seen playing with them in the courtyard of their apartment building at 1521 NE Eighth St.

COMPLAINTS RECEIVED

But there were concerns. The state Department of Children & Families received three complaints that the children were not eating enough.

Three days before Woyah died, a DCF investigator told Lamoy Andressohn to take her four oldest children to a doctor. The investigator did not see Woyah, who was out of the home with her father.

The agency, which has had four Miami-Dade County children die under its watch since February, has been criticized for its handling of the case. During a March 10 visit, Lamoy Andressohn showed an investigator a bottle with wheat grass juice when asked what she fed Woyah. Nevertheless, the investigator said there were ''no indications'' of child neglect in the home.

Although the arrest warrant says the Andressohns would take their children to a doctor only if it was ''absolutely necessary,'' it did not say whether Woyah ever saw a doctor before she stopped breathing at 11:41 p.m. May 14. She was rushed to the hospital and pronounced dead an hour later.

NEVER VACCINATED

The children had never been vaccinated. All five were born at home, the first three with the help of a midwife. Joseph delivered Woyah and her older sister.

Woyah's 4-year-old brother told an investigator that his little sister was fed coconut milk, almond juice and avocado juice, according to the arrest warrant.

Her 6-year-old brother said the Andressohns gave Woyah an enema because she was "toxic.''

All of the children were occasionally given enemas. Dr. Tom Johnson, a professor of pediatrics at the University of Miami School of Medicine, said enemas can deplete vital fluids in a child's body.

''It's not going to cause malnutrition per se, but it can cause significant life-threatening abnormalities,'' he said.

The day that Woyah died, investigators examined the other children. The two older children showed signs of rickets, a condition that leaves the bones weak and easy to break. Rickets can be caused by a lack of vitamin D, the vitamin added to most milk, said Dr. Gary Berkavitz, a professor of pediatrics at the University of Miami. RARE IN FLORIDA Children also get vitamin D if they get enough sun. Rickets is almost unheard of in Florida because children get so much sun normally, Berkavitz said. A strictly vegetarian diet that excludes milk products and cooked food is not inherently unhealthy, Berkavitz said.

''It requires a fair amount of planning to make sure that an adequate amount of fat and carbohydrate calories are supplied,'' he said. "Fat turns out to be very important for babies and children up to 5 years when the brain is developing very rapidly.'' The Andressohn's attorneys have said they followed the raw diet as part of their Hebrew Israelite faith, which believes that blacks are God's chosen people. Many Hebrew Israelites follow a vegetarian diet. The Andressohns each are charged with four counts of neglect and one count of aggravated manslaughter of a child, defined as child neglect that results in death. That charge carries a maximum prison sentence of 30 years.

LEGAL PROHIBITION

Parents are not legally allowed to impose their religious views on their children if those views endanger the children, said Bruce Winick, a law professor at the University of Miami. ''I think the prosecution's theory will be they should have known that something was wrong,'' Winick said. "They should have supplemented the kid's diet. Somehow that baby wasn't getting enough nutrients.'' But the case may not be easy for prosecutors.

''Will the jury see them as loving parents who have suffered enough, they've lost their kid? Then the jury will acquit,'' Winick said. "Or will they be seen as callous, that they should have known better?'' Although the case is unusual, it's not unheard of.

In March, a Marin County, Calif., man was sent to prison for 16 years for letting his 19-month-old son starve to death on a strict diet that included herbal supplements. In Florida, a Pasco County man was convicted of third-degree murder, a more serious charge than manslaughter, after his infant son died of malnutrition and chronic illness in 1985. Joseph Andressohn's sister is asking for custody of the four surviving children. The DCF has said it has problems with her request.

The four have gained weight since being taken into custody.

They are following a vegetarian diet now but are not limited to raw foods.

Last updated 17 September 2007

---
---
Related Articles
---