Child abuse by vegan parents
These news items illustrate the sort of damage that extreme vegetarianism can do.
In this story from New Zealand, the baby of a vegan couple died because of their beliefs. Prof Peter Skegg said that " Religious fanatics could face harsher treatment from courts if Moorhead case used as a precedent"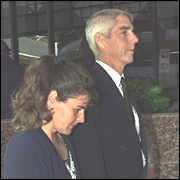 Tue, 4th June 2002 Moorhead jury watches video
http://www.clear.net.nz/archives/articles/00020308.html

A High Court jury in Auckland has watched a video as the manslaughter trial of Deborah and Roby Jan Moorhead continues.
The Dargaville couple have denied causing the death of their six-month-old child Caleb by failing to provide the necessaries of life.
In an interview with a detective, Jan Moorhead said he never knew his son was going to die until his final breath of life, because of his faith in the herbal remedies which he was treating him with.
He said in hindsight there is a possibility he may have done the wrong thing, but he said the doctor at Starship Hospital could also be wrong.

Wed, 5th June 2002 Final stages in Moorhead manslaughter trial
http://www.clear.net.nz/archives/articles/00020321.html

The jury is expected to retire today to consider its verdict, in the Auckland trial of the parents charged with the manslaughter of their baby.
Deborah and Roby Jan Moorhead deny the manslaughter of six-month-old Caleb, by failing to provide the necessaries of life.
The Dargaville couple are defending themselves before a High Court jury, but have declined to give evidence in their own defence.
The prosecution has completed its closing submissions.
The judge will sum up the case this morning and the jury will then retire.
The Seventh-day Adventist couple took Caleb out of the Starship children's hospital and went into hiding.
The jury heard that the couple believed their son would be healed through the use of alternative remedies.
He died in March last year from medical complications due to a lack of vitamin B12.

Wed, 5th June 2002 Guilty verdict in Moorhead case
http://www.clear.net.nz/archives/articles/00020337.html

The jury at the High Court in Auckland has this afternoon returned a guilty verdict, in the trial of Deborah and Jan Moorhead.
The couple had been charged with the death of their six month old son Caleb, by failing to provide the necessaries of life.

Thu, 6th June 2002 Moorheads went "beyond church teachings"
http://www.clear.net.nz/archives/articles/00020344.html

The Seventh Day Adventist Church does not believe many of its followers have the same attitude towards the medical profession as Deborah and Jan Moorhead.
The Dargaville couple have been found guilty of causing the death of their six-month-old son Caleb by failing to provide the necessaries of life. They will be sentenced on June 13.
Seventh Day Adventist spokesman Dr Percy Harold says the Moorheads went far beyond church teachings in refusing medical help. He says most Seventh Day Adventist members would not take the same line. He says people in many countries take genuine beliefs to the point where they end up causing harm.
Doctors found that Caleb was severely anaemic and was suffering from developmental problems due to a lack of vitamin B12.
Deborah Moorhead's breast milk, Caleb's only nutrition, lacked the vitamin.
The Moorheads are vegans.
They took Caleb out of Auckland's Starship children's hospital, preferring to treat him with alternative herbal remedies.
He died in late March, last year.

Thu, 6th June 2002 Legal experts consider Moorhead case
http://www.clear.net.nz/archives/articles/00020353.html

Religious fanatics could be in for harsher treatment from the courts if the Moorhead case is used as a precedent according to an academic.
Seventh Day Adventists Deborah and Jan Moorhead have been found guilty of manslaughter by denying their six-month-old son Caleb conventional medical treatment.
He later died when his parents removed him from Starship Hospital, preferring to treat him with herbal remedies.
Otago University medical law professor Peter Skegg says there have been other cases where parents have preferred alternative medicine which have not resulted in prosecutions.
He says it appears parents from religious or ethnic minorities are more likely to be prosecuted than middle-of-the-road families.
Other cases include the case of three-year-old Liam Williams-Holloway, whose parents took him into hiding after refusing chemotherapy treatment for his cancer. He died after seeking alternative treatment at a clinic in Mexico. The Williams-Holloways were not charged.
A South Auckland boy also died after his parents refused treatment when a large cancerous tumour formed on his leg. His parents were found not guilty of manslaughter. However, they received a suspended prison sentence after being found guilty of not providing the necessaries of life.
Meanwhile, the Nutrition Foundation says there's nothing wrong with vegan mothers breast feeding.
There has been concern about the practice following the death of Caleb Moorhead from a vitamin B12 deficiency.
Nutrition Foundation Scientific Committee chairman Dr Cliff Tasman-Jones says B12 injections are readily available and will fix any imbalance.
He says all that is required to keep their baby healthy is an injection once every six weeks.

Thu, 13th June 2002 Moorheads get five years
http://www.clear.net.nz/archives/articles/00020505.html

The Northland couple found guilty of the manslaughter of their baby son have been jailed for five years each.
Deborah and Jan Moorhead were convicted of causing the death of eight-month-old Caleb by failing to provide the necessaries of life. .

13 June 2002 Moorheads' family surprised at pregnancy

Surprise for family of Deborah Moorhead at announcement she is 23 weeks pregnant
News that Deborah Moorhead is pregnant again has come as a shock to some of her family.
The Dargaville mother has been sentenced to five years jail for the manslaughter of her six-month-old baby.
Her husband, Jan Moorhead was given five years as well.
The devout Seventh Day Adventists from Northland took their six month son away from Starship Hospital in Auckland where he was being treated.
He died in March from complications associated with a vitamin B12 deficiency.
Caleb was suffering brain damage and anaemia.
The Moorheads follow a strict vegan diet which excludes all animal products and fish and believed their son could be cured through the use of alternative remedies.
Caleb's sisters' stepmother, who wants to be known only as Lisa, says she only found out this morning that Deborah Moorhead is 23 weeks pregnant.
She says Deborah's other two young daughters are going through tough times, but believe their mother has done the right thing.

Thu, 13th June 2002 Cop vows to protect unborn child
http://www.clear.net.nz/archives/articles/00020519.html

The detective in charge of the Moorhead case is vowing to ensure the couple's next child receives all the necessary health care.
Deborah and Jan Moorhead have been sentenced in the High Court at Auckland today to five years imprisonment for the manslaughter of their six-month-old son Caleb.
It has been revealed Deborah Moorhead became pregnant after she was committed to trial for manslaughter.
The court today heard that she is 23 weeks pregnant.
Detective Sergeant Chris Scahill say police will be advising CYFS that the baby shouldn't be allowed to stay with its mother.
He says it's a tragic case as the Moorheads obviously chose their faith over their son's life.
He hopes the heavy jail sentence will act as a deterrent to others.
While sentencing the couple, Justice Harrison said the most serious factor of the case is the Moorhead's uncompromising dogmatic belief that Caleb's illness was a test from God.
He noted Deborah Moorhead's pregnancy but said that was not enough to prevent a prison sentence.
He told the couple that society had difficulty understanding their beliefs but said they are not being punished for their faith.
The devout Seventh Day Adventists from Northland took their six month son away from Starship Hospital in Auckland where he was being treated.
He died in March from complications associated with a vitamin B12 deficiency.
Caleb was suffering brain damage and anaemia.
The Moorheads follow a strict vegan diet which excludes all animal products and fish and believed their son could be cured through the use of alternative remedies.

Fri, 14th June 2002
Better info wanted for vegans
http://www.clear.net.nz/archives/articles/00020534.html

There are calls for better nutritional information for vegans, in the wake of the Moorhead manslaughter trial.
Jan and Deborah Moorhead have started five-year prison sentences for the manslaughter of their infant son.
Six-month-old Caleb Moorhead died from a vitamin B12 deficiency, caused by his mother's strict vegan diet which was free of meat, dairy products and fish.
He was being breastfed.
His parents refused to seek medical help for the problem.
Vegan Society Coordinator Sandra Murray says veganism is growing and people need to know the facts.
She would like to see a pamphlet produced about veganism, particularly aimed at pregnant women and mothers.
Ms Murray also wants health professionals to change their attitude towards people who choose a diet free of animal products.
She claims doctors are often unhelpful when vegans seek advice.
She says they tend to disapprove of veganism, making patients less likely to seek help in the future.



COMMENT


So what is society to do with people like this? Should doctors tell them how to live healthily on this ridiculously inadequate diet? Or should they try to teach them the right and natural way to eat?

These people say that they believe in God. Surely that should mean that they would want to eat the foods that God designed their bodies to use. Our bodies are not designed to eat a vegan diet. This case and others like it proves that.
Unfortunately, as is well documented, such extreme dietary practices have an effect on brain chemistry. It makes adherents irrational.



Baby death parents spared jail
http://news.bbc.co.uk/hi/english/health/newsid_1542000/1542293.stm
Friday, 14 September, 2001, 17:34 GMT 18:34 UK

The parents of a nine-month-old girl who died after being fed a fruit-based diet have been spared a jail sentence.

Areni Manuelyan died of a chest infection, brought on by malnutrition in July 2000 weighing just eleven and a half pounds, six pounds less than she should have. At her post mortem she was found to be markedly thin, dehydrated and to have severe pneumonia - all of which could be linked to malnutrition. At their trial, her parents, Garabet and Hazmik Manuelyan, both 45, pleaded guilty to child cruelty.

That would normally have resulted in a prison sentence. But at the Old Bailey on Friday, Judge David Paget said what had happened to the family was punishment enough.

The Armenian couple, from Staines, Surrey, described as "loving but misguided" in court, were placed under a community rehabilitation order for three years. Mrs Manuelyan still sleeps on the blanket that last held Areni.

She was described by Linda Strudwick who was defending her as "a mother who cared passionately for her children. Perhaps she cared too much."

The couple's two other children have been taken into care.

Judge Paget said: "This is a wholly exceptional and tragic case.

"You have been punished and will continue to be punished by the consequences of your actions."

Concerns
The couple were vegans, but in 1996 switched to a fruitarian diet consisting of raw vegetables fruit and nuts.

After Areni's birth on 8 September 1999, the family saw a paediatrician who said the baby was not developing properly, and that her mother's breastmilk was nutritionally deficient. Other doctors and social workers warned against the diet.

But the court was told the couple had shown a "stubborn refusal", and would not follow the advice.

Later, the family went to live on a vegetarian commune in Spain, where they believed Areni's Vitamin D deficiency would be cured by sunlight.

The couple believed all Areni needed was "sunshine and fruit".

They returned to the UK in July 2000 when Areni became seriously ill.

A doctor who the couple went to see, who specialised in oxygen therapy, told Areni's parents she needed to be taken to hospital immediately.

But Mr Manuelyan, a bus driver, was said to be worried about the chemicals his daughter may be treated with, and the couple ignored the advice.

On July 5, 2000, an ambulance was called to the family home because Areni had stopped breathing. She was taken to hospital and later certified dead.

A nutritionist said even if she had been taken to hospital the day before her death, she could have survived.

'Ill-advised'
Nutritionists say a fruitarian, or fruit-only diet, is completely ill-advised for such a small child. They add that even adults need to be careful not to stick to a fruit-only diet for too long.

Catherine Collins, a spokeswoman for the British Dietetic Association, (BDA) said some fruitarians did eat raw vegetables or pulses. But she said: "The main problem for a nine-month old child is that they need a very high calorie to weight intake."

Without that, she said babies of that age - and younger - would not have the fuel they need for muscle growth, organ growth and brain development. They would miss out on proteins, iron, calcium, essential fatty acids and raw fibre, which will all affect their development.

BDF paediatric dietician Nicole Dos Santos said babies would also need the fat and nutrients they would receive from breast or bottle milk, and it was important babies received one or the other.

She said a fruit-only diet was unsuitable for a child. "This is not a diet a child should be put on."


---
Vegan Couple Starved Toddler, Cops Say
http://www.foxnews.com/story/0,2933,51494,00.html
Tuesday, April 30, 2002

NEW YORK -- A vegan couple in New York City were busted for starving their baby daughter -- by denying her breast milk and formula, feeding her only nuts, fruits and vegetables, and allegedly failing to get her medical help for severe malnutrition.

Joseph and Silva Swinton, both 31, were arrested Friday and charged with reckless endangerment and endangering the welfare of a child for failing to properly feed and care for their baby, Ice. The Swintons, who are being held in lieu of $20,000 bail, face up to seven years in prison if convicted.

Sixteen-month-old Ice Swinton weighed only 10 pounds, looked like a 2- or 3-month-old and was half the normal weight of a child her age when authorities discovered her close to death last November. EMS workers rushed Ice to from her Queens home to Long Island Jewish Hospital, where doctors diagnosed her with developmental problems, a distended abdomen, fractured bones, a vitamin deficiency called rickets and a lung disorder — all caused by malnutrition, authorities said.

The Swintons, who say they approach veganism as a religion, fed the child a diet of "ground nuts, fresh-squeezed fruit juices, herbal tea, beans, cod liver oil and flax seed oil," a complaint said. Even when doctors told the couple their baby was on the brink of death in November, both parents insisted "there was nothing wrong" and were resistant to treatment, the complaint said. After a four-month hospital stay, the New York City Administration for Children's Services placed the baby in a foster home.

Several months on a healthy diet have helped the 20-month-old to achieve the functions of a 10- to 12-month-old baby, but the child is still struggling, authorities said. Warren Silverman, a lawyer representing the mother, questioned why there was such a long delay to file charges.

"If Long Island Jewish Hospital at that time thought that something was amiss, why wasn't something done right away?" he asked.

The Swintons have been allowed supervised visits with their daughter — but ACS has asked that a judge order them stopped after the father said he thought the child was getting "chubby," sources said.

Neighbor Toyin Savage said she was "shocked."

Another neighbor said she saw the baby recently.

"I asked how old she was and they said, 'Almost a year.' She looked very small. They said she was a vegetarian — I didn't think about it at the time."



- - - - - - - - - - - - - - - - - - - - - - - - - -



After this experience, you would think that the parents would learn something. But it seems they haven't as this follow-up story demonstrates:



- - - - - - - - - - - - - - - - - - - - - - - - - -




Vegan Couple Accused of Starving Child Expecting New Baby
http://www.foxnews.com/story/0,2933,51813,00.html
Friday, May 03, 2002

NEW YORK -- The vegan father accused of starving his baby told The New York Post Thursday that the little girl was healthy before New York City authorities took her away last November -- and added that his wife is about to have another child, which he plans to feed the same diet.

"We are about to drop another seed -- and no one can tell us how to raise this child or any of our children," Joseph Swinton, 31, said in an interview at the Queens House of Detention, where he's being held on $20,000 bail.

Swinton also revealed he would not let his wife breast-feed his child because she was not "pure enough."

"She had smoked marijuana some months before the baby was born, so she wasn't clean enough to breast-feed," he said.

Swinton's wife, Silva, 31, who's being held on Rikers Island, refused to tell The Post anything more than "Everything in the papers is wrong."

Swinton said that he plans to rear the new baby on the same vegetarian diet that he fed to his 20-month-old baby, Ice.

The baby was taken from the couple after authorities determined she was suffering from severe malnutrition as a result of being denied breast milk, formula and medical care.

"I will fight to get my daughter back," said Swinton, a lanky man with a missing tooth and an intense gaze. "Our family will be together again."

Baby Ice was placed in foster care four months ago, after recovering for several months at a Westchester medical facility.

Last week, Queens County prosecutors filed criminal charges against the Swintons, accusing them of reckless endangerment and endangering the welfare of a child for putting Ice "at grave risk of death."

"It's all lies," Joseph Swinton said. "She laughed and smiled like any normal baby. She'd never been sick a day in her life until they took her away."

The couple fed Ice, who was delivered at home weighing 3 pounds, nut milk, vegetables, fruits and oils as a part of a vegan diet.

"I wanted to save my daughter from suffering what I suffered," he said, referring to years of what he called the "excess mucus buildup" he endured while consuming meat and dairy.

Swinton said his life changed when he stopped eating animal products and processed foods about nine years ago, at the urging of his wife. In supervised visits with his daughter since the neglect charges against the couple were filed in Family Court, Swinton said she appears sick and listless.

"She has these layers of fat around her muscle from the poison they are feeding her," he said. "My daughter doesn't want the food they're feeding her. She wants her parents back."


Young Vegans May Not be Getting Vital Nutrients
American Journal of Clinical Nutrition 2002;76:100-106
Young vegans may be missing out on certain essential nutrients, according to a new study by Swedish scientists.
Because vegans shun all animal products, they may get too little of some nutrients found in meat and dairy products, such as calcium and vitamin B-12. Such deficiencies are of particular concern when it comes to growing teens.
In their report, Christel L. Larsson and Gunnar K. Johansson of Umea University interviewed 30 vegans between the ages of 16 and 20 about their daily food intake. They also analyzed blood and urine samples for the presence of essential nutrients. The results were compared to a similar group of omnivore--or meat- and plant-eating--adolescents.
"The dietary habits of the vegans varied considerably and did not comply with the average requirements for some essential nutrients," Larsson and Johansson write in the July issue of the American Journal of Clinical Nutrition.
Specifically, the researchers report that "vegans had dietary intakes lower than the average requirements of riboflavin (a B vitamin), vitamin B-12, vitamin D, calcium and selenium."
Vegans had higher intakes of vegetables, legumes and dietary supplements, but even after the researchers included dietary supplements in their analysis, the vegans' intake of calcium and selenium remained low.
Among the men, vegans tended to weigh less and have a lower body mass index--a ratio of weight in relation to height. There was no such difference between female vegans and omnivores, however.
"It is important for adolescents in general and vegetarians in particular to receive knowledge, both theoretical and practical, about how to combine and prepare a healthy diet," the authors conclude
.
Last updated 9 June 2002
---
Related Articles
---